X'll Mark The Place. Like The Parting Of The Waves. Like A House Falling Into The Sea.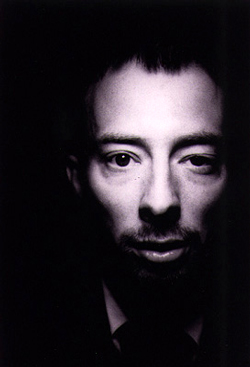 I got to meet Thom Yorke last year when
Radiohead
played the Hollywood Bowl. Were decamped at the same hotel as them, and after the show, drunk on Patron, I made my move. Thom was sitting outside with Johnny Greenwood, looking only slightly more uncomfortable than usual. Walking over to his table, I realized I hadn't got a clue as to what I was gonna say to him. I mean really, how do you sum up almost 10 years of adulation and admiration? Was it even possible? Thom started to get up, but I cut him off by the exit. I stuck my hand out and he shook it. The conversation went something like this:
Me: Amazing show tonight.
TY: Thanks. Thanks a lot.
Me: Listen, I just want to thank you for cre4ating such beautiful and amazing music for us all to enjoy.
TY: Wicked! Thanks a lot! Wicked!
As he and Johnny scooted off to the 6th floor where they were staying, I realized that there probably wasn't the perfect thing I could've said to him. But what I did say was decent enough. And he seemed to dig it. Yeah, riiiight. For your listening (dis)pleasure, three of my favorite tracks off of
Hail To The Thief
:
Radiohead: A Wolf At The Door
Radiohead: Where I End And You Begin
Radiohead: Myxamatosis